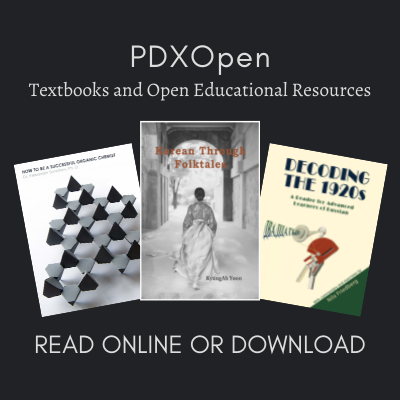 PDXOpen provides access to over thirty downloadable works. Part of PDXScholar, the institutional repository for Portland State University, PDXOpen is a collection of open access textbooks and open educational resources designed in response to the cost burden faced by students. PSU Library developed this grant-based open access textbook publishing program in support of statewide goals to make education more accessible.
PDXOpen Goals:
Increase student success by saving students money
Provide free high-quality course-specific online textbooks
Empower instructors to engage in new pedagogical models
Offer peer-review, copyright, and technical support
Create campus-wide partnerships and share expertise
Leverage the University's institutional repository, PDXScholar, to advance dissemination
PDXOpen has saved PSU students over $1.5 million. Open access works have been downloaded over 600,000 times. Topics include chemistry, climate change, gender studies, graphic information systems (GIS), language acquisition/studies (Arabic, French, Japanese, Korean, Russian, and Spanish), mathematics, philosophy, special education, statistics, and more.

PDXScholar contains more than thirty thousand works (including PDXOpen) The site includes articles, data sets, dissertations, ebooks, journals, oral histories, post-prints, presentations, videos, content produced by centers and institutes, and output from conferences and symposiums, such as  papers, posters, and more. PDXScholar makes the research, scholarship, and creative works of Portland State University faculty, staff, and students easily discoverable and available to anyone, anywhere in the world. 
Learn More
Visit PDXOpen
Explore PDXScholar 
Browse Featured Collections