Study Areas
The basement is the designated Quiet Floor in the library, providing students with quiet spaces to focus and study. During fall term all other floors are intended for Individual Study and remote learning. Please avoid gathering in groups. For the health and safety of others, please wear a mask at all times and do not eat or drink when in the library.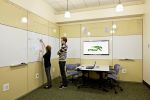 Learning Ground Lab & Sandbox
1st Floor Computer Lab
Learning Ground Lab & Sandbox (north end of the 1st floor) has wheelchair accessible computers, scanners, black & white and color printing, and a collaborative study area that includes mobile furniture, writable walls, computers with 55″ displays, and wall-mounted touch-screen computers.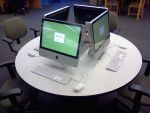 Library Research Center
2nd Floor Computer Lab
Reference Librarians staff the Library Research Center (2nd floor across from the elevators). There are 70 PCs and several Macs, wheelchair accessible computers, scanners, and black & white printing, as well as color printing.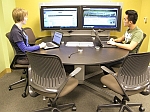 Media:Scape Station
2nd Floor
The Media:Scape station (south end of the 2nd floor) is connected to a standard lab computer and enables screen-sharing with personal laptops, or Library Laptops.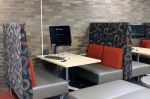 Flexible Study Area
3rd Floor
This is a large flexible study area with furniture that can be moved to fit various study needs. There is comfortable seating, ottomans, rolling whiteboards, study booths with touchscreens, chairs with laptop trays and numerous floor outlets to accommodate personal laptops, or students can borrow a Library Laptop.