The Graduate School and the University Library created the Thomas C. Bielavitz Graduate Student Collaboration Hub as a unique space for Portland State graduate students to gather and work, with generous funding from the Graduate School, the University Library, and Provost Susan Jeffords. This space was developed in response to an identified need, driven by Portland State graduate students. 
Located on the south end of the 4th floor of the Library, the Graduate Hub is a multi-use space, including tech-enabled space for workshops and presentations, open space for group work, and smaller, reservable rooms. 
Graduate students visiting the Hub will also be in close proximity to other services offered by the Library, such as technology equipment check out and research help.
Comments and suggestions regarding the Hub can be sent via the our Comment & Suggestion Form.
Graduate students can enter the Collaboration Hub using their student ID card. Entry is available to currently enrolled graduate students. 
Technology & Rooms
The Grad Hub has a large open flexible space for individual and group study, a small computer lab with robust computing and docking stations, two reservable study rooms, and a classroom. There are also multiple power outlets throughout the space for students to use.
Open Flexible Space
The Grad Hub open space has comfortable soft seating, both for individual study and groups. Additionally there are large work tables and chairs, a cafe table, and counter space. There are wall outlets available throughout the space, and outlet towers near central seating areas.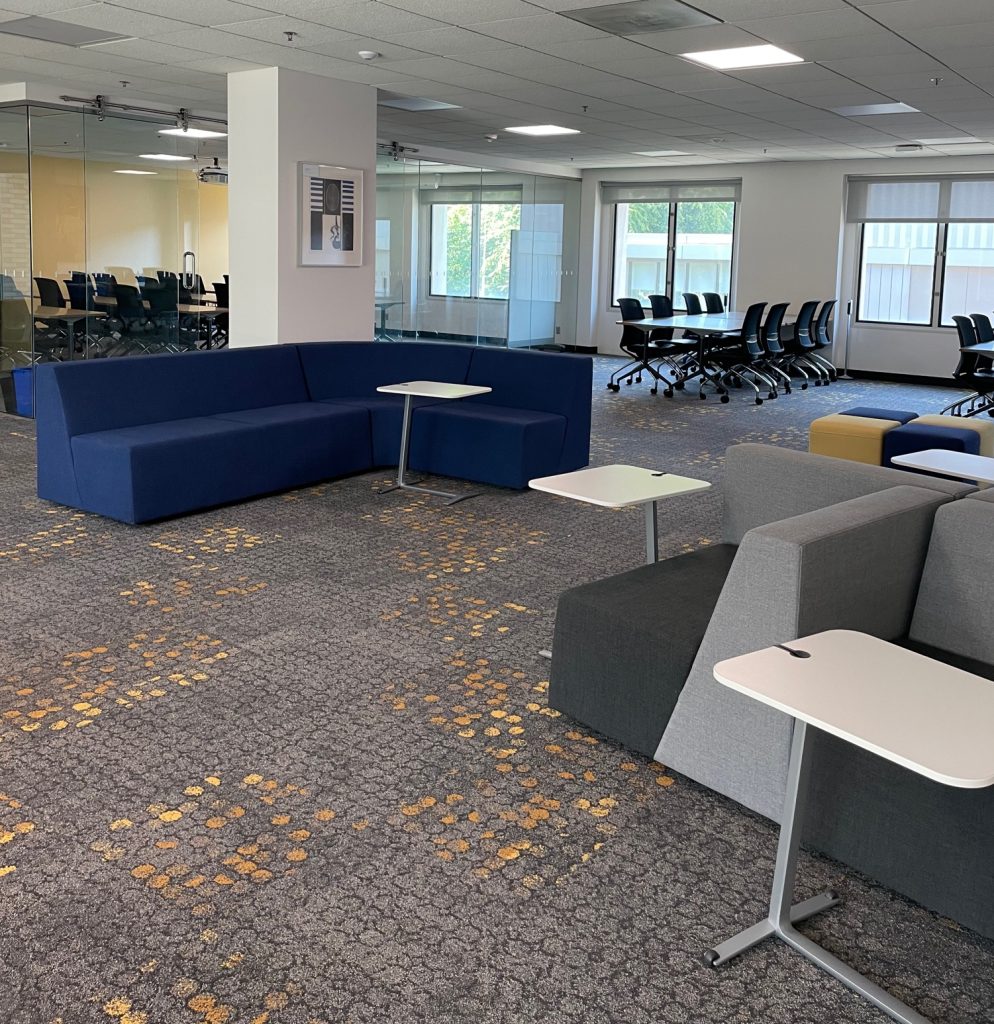 Small computer lab (490H)
Dell OptiPlex 7090 Windows PC
Processor: 10-core Intel Core i9
Memory: 32GB DDR4
Storage: 1TB Solid State Drive
Graphics: AMD Radeon RX 640
Displays: 2 x 27-inch Dell UltraSharp QHD (Quad High Definition) monitors
Software: standard lab software and Adobe Creative Cloud
27-inch iMac with Retina 5K display
Processor: 8-core Intel Core i7
Memory: 16GB DDR4
Storage: 1TB Solid State Drive
Graphics: AMD Radeon Pro 5500 XT
Software: standard lab software and Adobe Creative Cloud
Dell Thunderbolt Dock w/27-inch Dell UltraSharp QHD monitor (2 available)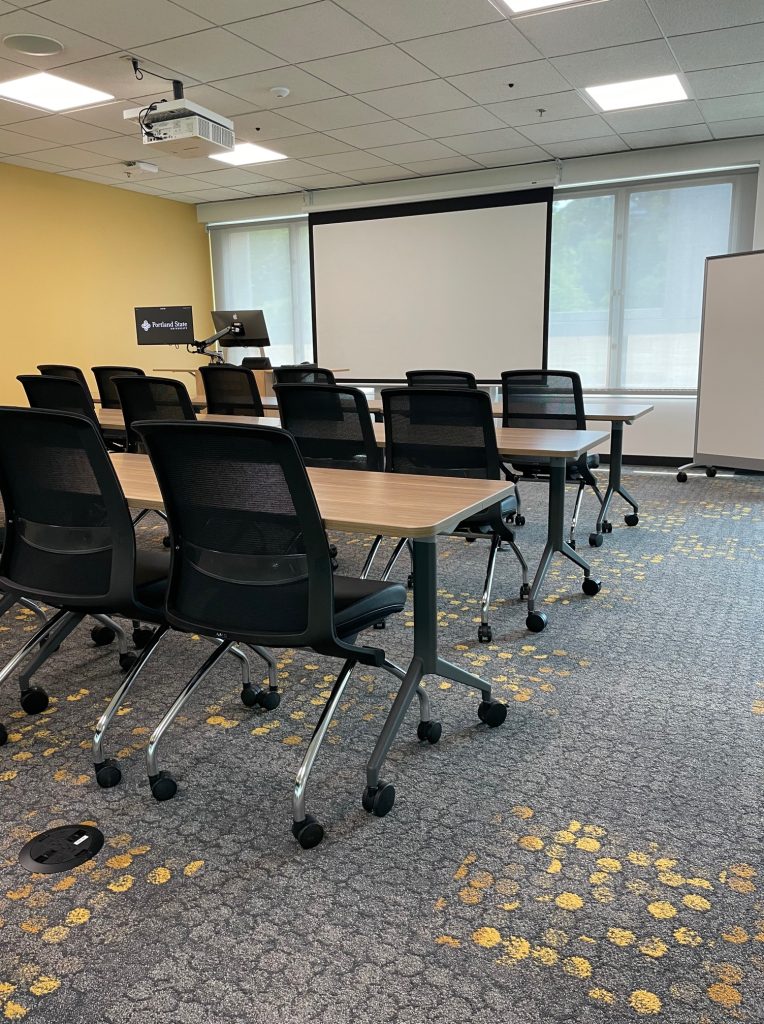 Classroom (490E)
The classroom space has tables and seats for 24. The instructor's station is Zoom enabled, with a wall mounted camera and ceiling microphones that cover the whole room. The classroom may be reserved for a graduate student focused event or workshop. Please see more information below.
Study Rooms (490A & 490C)
Conference style Zoom integrated/enabled rooms with large display and room camera. Displays can easily mirror personal laptops. Outlets available in the center table consoles.
Each of these study rooms can be reserved via the Library's online reservation system. Reservations and access to these rooms is limited to graduate students.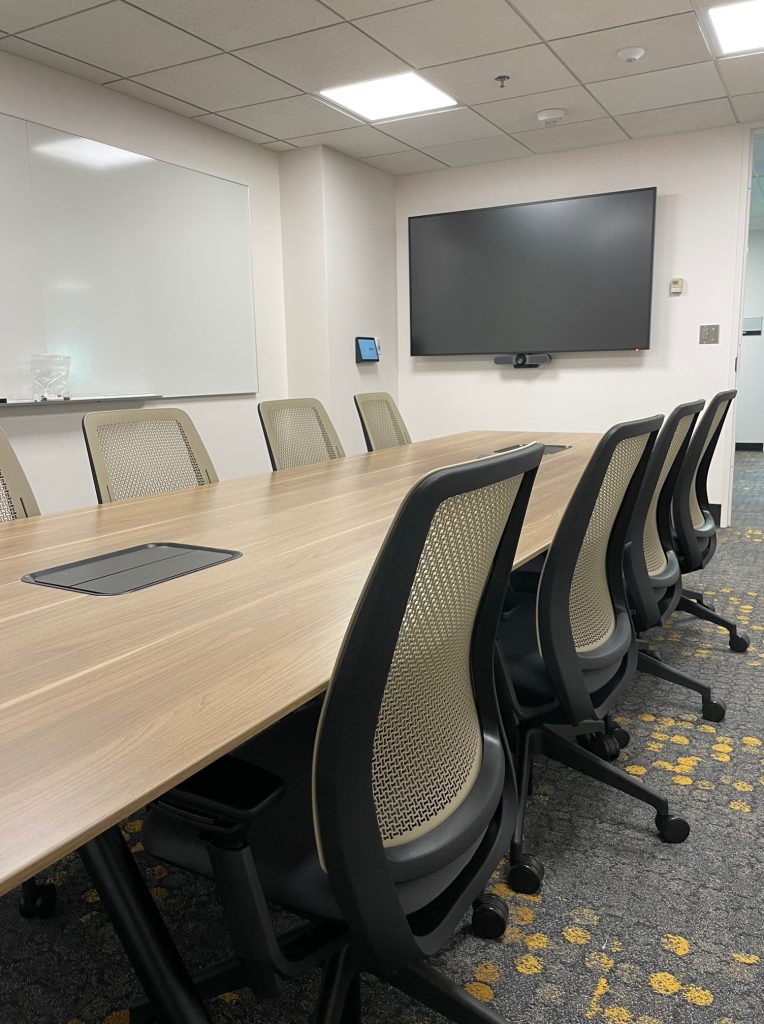 Events & Workshops
The Grad Hub is a place for graduate students to gather, learn, and work together. The Library is offering reservations for the classroom and small computer lab spaces for occasional meetings and workshops. These may be requested by graduate students and faculty. Please note, the Hub is not meant to be a regularly scheduled meeting space (i.e., the Hub cannot be used as a classroom for a course).
The classroom, small computer lab, and entire Hub are reservable. The event must be graduate student focused. Reservation requests will be screened by the Library.