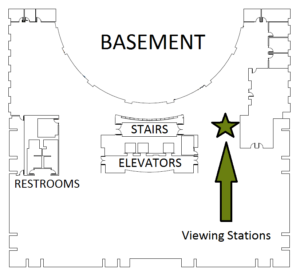 The DVD/VHS viewing stations, including a region-free Blu-ray/DVD station, are on the south side of the basement. DVD and VHS can also be viewed in Practice Presentation Rooms 20, 304, and 320 on large screens.
DVD viewing is also supported on:
research kiosks
student loaner laptops
2nd floor lab computers
3rd floor study booths
computers in rooms 2, 90, 92, 94, and 96
Visit the Circulation Desk to borrow headphones or a portable LED projector for use with loaner laptops.