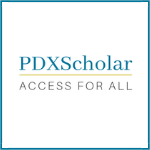 PDXScholar: The Institutional Repository of PSU Scholarship
PDXScholar
 is an online archive for PSU-authored articles, textbooks, journals, conferences, reports, & data sets. PDXScholar maximizes research impact, facilitates interdisciplinary research, and expands the reach of Portland State University scholarship worldwide.
---
PDXScholar hosts full text articles, textbooks, journals, conferences, reports, data sets, and creative works, as well as citations to works. PDXScholar is staffed by the Digital Initiatives and Scholarly Publishing unit, part of Portland State University Library. Our mission is to provide open access to scholarship in support of what the Library and our colleagues at Portland State University value: innovation, collaboration, and stewardship; access, inclusion, and equity; community engagement, global impact, and sustainability. Our goal is to make the research, scholarship, and creative works of Portland State University faculty, staff, students and their collaborators easily discoverable and available to anyone, anywhere in the world.
PDXScholar contains over 25,000 items and is part of a shared collection of over 3.5 million items from over 500 other colleges and universities:
Browse the Digital Commons Network
SelectedWorks is an optional service that enables PSU Faculty and staff to create a personalized research profile. The profile allows scholars to manage a public record of scholarly publications, presentations, and biographical information, such as research interests, grants, affiliations, and curriculum. Once created, an author's SelectedWorks profile exists in perpetuity, regardless of PSU affiliation. All content in SelectedWorks is optimized for discovery in Google and Google Scholar and is included in the SelectedWorks Author Gallery.
Benefits
Increases citation impact and visibility
Easy to archive and share work with colleagues
Amazon S3 cloud storage for permanent preservation
Global audience, higher Google ranking, detailed readership reports
Unlimited file types: streaming media, images, data, and more
Persistent URLs for every item; Digital Object Identifiers for many items
Meets data management requirements for dissemination
How it Works
Staff reviews copyright and archives the full-text whenever possible.
If copyright restrictions prevent full-text archiving, the citation is added.
Authors or original copyright holders retain their rights.
What Authors Can Do
Send us your citation or full-text; we will determine which version can be archived.
Negotiate copyright terms agreements that allow the final version to be archived.
PDXOpen: Open Educational Resources
The Library publishes open educational resources (OERs) and open access textbooks to reduce the cost of higher education for students. OERs are freely available to students at PSU and beyond. Through generous donor support, the Library periodically offers faculty incentive grants designed to encourage the use, creation, and adaptation of openly licensed information resources to support learning.
Data Preservation
PDXScholar is a platform where research data can be published. Data published in PDXScholar must be in its final state. Reasons to share your data:
NIH, NSF, and many funding agencies require data preservation.
Some journals and societies require data publishing and preservation.
Increase the impact of your research.
Journal and Conference Hosting
The Library publishes peer-reviewed open access journals and supports campus events by posting conference schedules and archiving presentations.
Benefits:
Flexible workflows for submission management; optional peer review
Post the event schedule — presentation abstracts, room locations, and breaks
Long-term archival storage for back issues and proceedings
Custom graphic design services for new journals and events
Training and support for journal editors and conference organizers
International Standard Serial Numbers provided for journals
Requirements:
Only PSU-held events, including student conferences, are eligible.
For journals, one faculty member must be in a leadership role initially.
Student-run journals require continuous faculty sponsorship and mentoring.

Editorial boards and event planners are responsible for:Submission management, editing, and formatting
Long-term publication strategies
Issue/cover design and layout
Promotion and marketing
Learn More About the Journal and Conference Hosting Platform
Email Digital Initiatives Staff to learn more about services or submit your work.