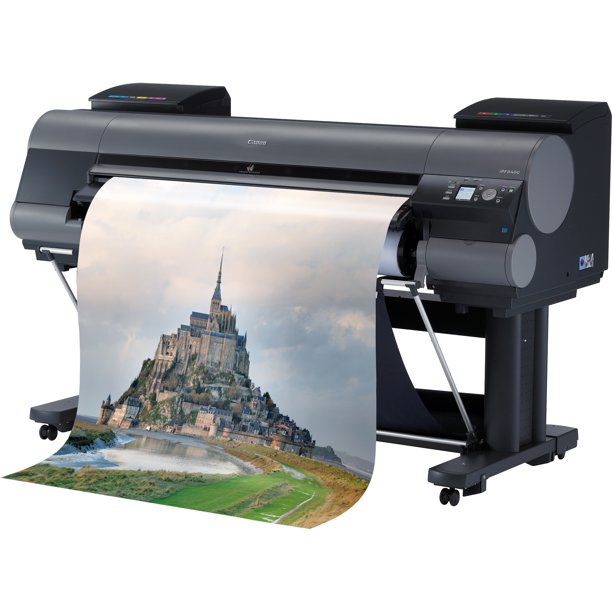 The library is offering wide-format printing services to PSU students, faculty and staff on a trial basis. If you would like to have a poster printed using one of our wide-format printers, please submit your print-ready PDF file using the following form.
Wide Format Print Request Form
If this is your first time using this service, please read the details below before submitting your file.
On this page: 
Order Turnaround
Wide-format printing services are on a first-come, first-served basis, with print orders processed in the order they are received. Standard turnaround for wide-format printing is ten business days (Monday through Friday) from when the order is submitted. For example, if an order is placed Monday at 3 p.m., it will be ready for pick up two weeks later on Monday at 3 p.m. Turnaround may be extended due to order size, ink use, large dimensions, complexity, and number of existing orders in the queue. Please note that we are not responsible for delays in processing print orders when they are submitted less than ten business days before they are needed.
Orders may be picked up at the library circulation desk during normal library hours.
Contact us for current printing availability and turnaround time, and plan accordingly when requesting service on a time-based need.
If your department is hosting an event or you are attending a conference that requires multiple posters to be printed, please contact us for more information.
Media Selection
We currently offer one type of media for wide-format printing: Heavyweight Coated Matte Bond (CMB).
Heavyweight Coated Matte Bond (CMB)
CMB paper offers high-resolution output on heavyweight (48#) matte-coated bond paper. This paper is the most cost-effective output and is a good choice for both short-term displays (such as conference presentations, one-time-use posters, and temporary signage) as well as photos and graphics. With instant ink drying for added convenience, this paper can also be easily laminated for a glossy-finished look and as a means of protection from excessive light and moisture. The maximum width of CMB media is 60″.
Pricing
Wide-format Printing Rates
Coated Matte Bond Paper (CMB):   

 
Determining Order Cost
When printing to roll paper, you may choose nearly any dimension (up to 125″) for your large format print within the printer's maximum dimensions of 44" x 100′ (Canon iPF 8400) or 60″ x 100′ (Canon iPF 9400).

To price your poster, we will consider the width to be whichever dimension is closest to 44" or 60″ (without being over), and the height to be the other dimension. The "per inch" charge will be based on the height dimension.
For example, with a 44″ x 36″ CMB poster the width would be 44″ and the height would be 36″. The total charge would be $45.00. If the poster is bigger, such as 64" by 36", the 64" would become the height, and the 36" the width, making the price $80.00. 
Please note that posters submitted for printing are rounded up to the nearest full inch. For example, a poster that is 44″ x 36.18″ would be charged for 37″.
All posters will be trimmed to size, but if cost is an issue, keeping these dimensions in mind may help to keep your poster as affordable as possible. We recommend contacting us for current services and pricing.
Preparing a File for Printing
File Creation
For wide-format printing, we recommend creating posters in Adobe Illustrator (.AI) or PowerPoint (.PPT). Although most applications that can print to letter-sized paper can also print to wide-format printers, there may be size limitations. For example, PowerPoint has a size limitation of 56″.
File Naming
For wide-format printing, please name your file using the following format: "<First Name> <Last Name>_<Name of Project>_<Date>.pdf". For example, "Susan Smith_NSFConference_July17.pdf"
As we handle multiple files, this helps to distinguish the files from one another.
File Format
We require that all files for printing be submitted in PDF file format. Before submitting your file, we recommend reviewing your PDF file to ensure everything is accurate.
File Dimensions
The poster submitted to us for printing must be the same dimensions as the final output. For example, if the final poster is to be printed at 24″ x 36″, the PDF should be set up for the same dimensions. We will not accept files scaled to dimensions other than 100% of the final output size.
To check the actual dimensions of the PDF, open your document in Adobe Acrobat Reader or Adobe Acrobat Pro. Move your mouse to the lower left-hand corner of the document. While hovering over the corner (do not click), the document dimensions should appear. Additional settings can also be viewed by selecting File, then Properties.
The Canon iPF 8400 wide-format printer supports a maximum size of 100″ x 44″ while the Canon iPF 9400 supports a maximum size of 100″ x 60″. Please be aware that there may be additional size limitations due to software before converting to PDF.
File Accuracy
You are responsible for checking your files for accuracy. We will not be held responsible for the cost of any printed materials that contain errors contributed solely by the client. If a poster needs to be reprinted, you will be charged the price of the original poster plus the poster reprint with no discount. 
Submitting a File
Before you submit a file for printing, you must review and verify that the file is accurate. The poster(s) will be printed "as is," and you will be held responsible for any errors, including the cost of both the original poster(s) and the re-printed poster(s).
Library staff will examine the file to ensure it is suitable for printing. We will then contact you with the final cost and request approval to proceed with the print job.
Once you have approved the file for printing, the print job will proceed. If a content error is discovered after you've approved the file for printing, you will be held responsible for the cost of the original poster and the re-printed poster(s) if the file has already started printing. Before converting your file to PDF, thoroughly check your poster for errors (spelling, grammatical, layout), missing images, and substitution of special symbols or fonts. Both Adobe Illustrator and Microsoft PowerPoint have spell-check tools. Additionally, we highly recommend that you open the newly created PDF (post-file conversion) and double-check that everything is correct (including hidden layers that may appear).
Trimming
Poster trimming is only available for posters printed on roll paper. When you submit your file(s), add the original and final trimmed dimensions (if different) for the poster in the Notes field. Final trim dimensions cannot be smaller than the original file dimensions. During peak poster printing periods, the turnaround time for poster trimming may increase. If there are many orders in the queue, please allow for extra time.
We provide trimming services for the following:
Large professional conference posters
We do not trim the following:
Poster board/Foam Core/Rigid Materials: Poster board, foam core, and other rigid materials are thick and can damage the trimmer. Additionally, the appearance of the edge after trimming is usually rough and requires special handling and finishing.

A single poster that needs to be cut into several segments. Cutting a large poster into multiple pieces is time-consuming, delicate work that requires frequent handling, which increases the likelihood of damage.

Individual posters printed in mass quantities, such as flyers or programs.

Output from the lab Ricoh printers.
Please contact us if you have any questions about poster trimming.
Paying for your Order
Banweb
The charge for your order will appear in Banweb.
Go to Banweb and log in to your PSU student account.

Navigate to the Student Finances tab and select Make a Payment
Click Yes Continue to Cashnet and follow the prompts to submit payment
Summary of Placing an Order
Customer creates the file and reviews the document for accuracy, as they will be held responsible for the cost of printed materials that are incorrect due to error on their behalf.
Customer confirms that the file is set up to 100% of the final output and saved/exported as a PDF.
Customer visits the library during business hours. Orders must be requested and picked up during this time.
Customer submits their PDF file through the wide-format printing request form on the library website.
Library staff checks the file for suitability and will contact the customer with the cost estimate and approval to proceed with the print job.
Upon approval, the order will be entered into our system and printed in the order that it was received.
Poster trimming and plastic poster bags (recyclable) are available. Please request these at the time of order placement.
Your poster will be printed within 10 business days from the time the order was submitted. Please feel free to check up on your poster progress any time after the order has been submitted.
Upon printing, the transaction is recorded, and charges are added to the customer's account in Banweb.
When the order is ready, customer returns to pick up their job. After reviewing the printed poster, they sign the order paperwork and collect the poster. Library staff then closes out the order.
Contact Us
For any questions or further information, please contact us at:
libprint@pdx.edu