The Kenneth W. and Elsie W. Butler Award for Library Faculty Service is awarded annually to recognize excellence in Library Faculty service to students, faculty, and other patrons of the University Library. Assistant Professor and Collection Development Librarian Jill Emery is the 2015 winner. As her colleagues in the Library note, Professor Emery "has significantly enhanced collection development within the Library, strengthened the Library's connection to the Orbis Cascade Alliance, and demonstrated innovation in her field."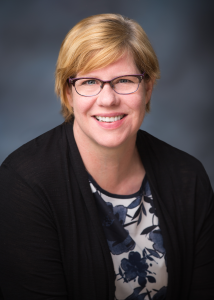 Professor Emery joined the PSU Library faculty in 2011 with an already established national reputation in librarianship. Her two ongoing projects, "Techniques for Electronic Resource Management" (TERMS) and "Open Access Workflows for Academic Librarians" (OAWAL), have won accolades, including the 2015 Ingram Coutts Award for Innovation in Electronic Resources Management from the American Library Association. Additionally, Professor Emery was named a Library Journal "Mover and Shaker" in 2004 and received the American Library Association Esther J. Piercy Award for leadership and contributions in library technical services in 2006. Professor Emery is frequently an invited speaker at national conferences on topics such as electronic resources management analytics, publishers and libraries, and more recently open access publishing.
James Bunnelle of Lewis & Clark College writes that that Professor Emery "is a dedicated advocate of academic freedom, championing open access and using her TERMS project as a helpful road map for librarians struggling with the complexities of electronic resources management." And as another colleague notes, "Professor Emery's distinction in the library field has also enhanced the reputation of PSU and our Library as a place of vision and innovation."
At Portland State, Professor Emery is guiding investment in collections that will both serve the new demands of a changing higher education landscape and support our community in the long term.