The University Library and Comics Studies Program at Portland State University invite you to attend a conversation with two of Portland's most accomplished comics writers, Kelly Sue DeConnick and David F. Walker. Kelly Sue and David will discuss adapting stories and characters from other media, especially movies and books, into comic book form, and having comics they've created adapted into other media by others.
Wednesday, November 29
6:00 p.m.
Cramer Hall 53
Portland State University
Free and open to the public

Kelly Sue DeConnick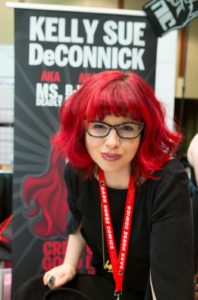 Kelly Sue DeConnick
is best known for surprise hits like Carol Danvers' rebranding as Captain Marvel and the Eisner-nominated mythological western,
Pretty Deadly
; the latter was co-created with artist Emma Ríos. DeConnick's most recent venture, the sci-fi kidney-punch called
Bitch Planet
, co-created with Valentine De Landro, launched to rave reviews in December 2014 and has since been nominated for an Eisner. DeConnick lives in Portland, Oregon with her husband, Matt Fraction, and their two children. Under their company Milkfed Criminal Masterminds, Inc., DeConnick and Fraction are currently developing television for NBC/Universal.
David F. Walker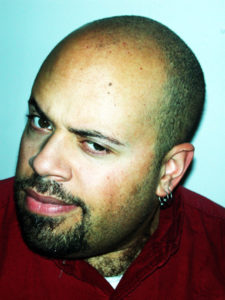 David F. Walker
is an award-winning comic book writer, author, filmmaker, journalist, and educator. His work in comic books includes
Shaft
(Dynamite Entertainment), winner of the 2015 Glyph Award for Story of the Year,
Power Man and Iron Fist
,
Nighthawk
,
Fury
,
Secret Wars: Battleworld
(Marvel Comics),
Cyborg
(DC Comics),
The Army of Dr. Moreau
(IDW/Monkeybrain Comics), and
Number 13
(Dark Horse Comics). In 2015, he wrote the novel
Shaft's Revenge
, the first new novel starring private detective John Shaft in nearly 40 years. He is also the creator of the critically-acclaimed YA series
The Adventures of Darius Logan
. Recognized as a leading scholar expert of African-American cinema, Walker produced one of the definitive documentaries on the topic of Blaxploitation films,
Macked, Hammered, Slaughtered, and Shafted
.