What do a rare devotional text, published writing by Portland State students, and arguments aimed at convincing Oregonian voters have in common? The simple answer is that these are all examples of unique artifacts and collections held by Portland State University Library Special Collections and University Archives! The Library's exhibit this autumn reflects the beginnings and endings of the season in its selections highlighting student writing, publishing, and research.
Spotlight on Student Media
Beginning with the Vanguard newspaper, founded in 1946 under the masthead Vet's Extended, and the Viking  yearbook, which ran for nearly forty years with only two pauses, Portland State students have published their writing in a rich array of genres and formats. Included in University Archives' exhibit are poetry and prose journals, weekly newspapers, and books published by the Ooligan Press. Browse the exhibit for lively historical examples, check out PDXScholar for digital back issues of student media, and pick up a recently published student paper or magazine for some current reading!
Election Season with Special Collections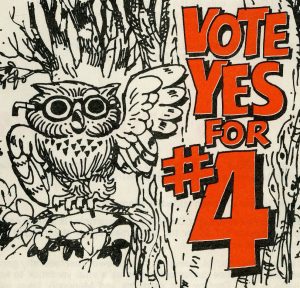 The State of Oregon has the earliest established initiative and referendum system in the United States, and continues to be one of the most active users of that system to bring issues to the ballot. Josh Binus, a public historian and PSU history instructor, began the Ballot Measure Archive Project in 2004 to document and preserve evidence of Oregon's dynamic history of direct democracy. Binus and over 120 researchers, primarily PSU undergraduates, worked more than five years gathering materials relating to Oregon's ballot initiative process: letters, articles and editorials, petitions, speeches, advertisements, signs, mailers, bumper stickers, buttons, and more from both sides of campaign issues. Check the exhibit for highlights of ardent support and vehement dissent on statewide issues, and learn how Oregonians voted!
Memento Mori: 'Remember Death'
In Spring 2018, students in the Medieval Portland Senior Capstone focused their research on a Book of Hours printed in 1507 by Thielman Kerver in Paris. The book's comprehensive inclusion of Christian texts often left out of Books of Hours and its highly detailed illustrations made it a compelling subject for interdisciplinary study. In the spirit of the season, as trees shed dead leaves and nights lengthen, we have selected studies on sections of the Book of Hours that contemplate mortality, endings, and inward reflection. The Book of Hours itself will be on display Monday through Friday while Special Collections is open.
Visit the PSU Library first floor elevator lobby to view the exhibit, and follow us on Instagram for more selections from your Library's unique collections!