The University Library is pleased to participate in Giving Tuesday, a global day of giving that kicks off the charitable giving season. We encourage you to support the #PDXGiveChange campaign by making a contribution to the Library Fund or Open Textbooks.

Support the Library Fund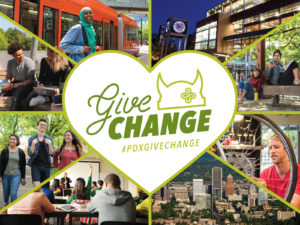 Make a gift to the Library Fund today
and your contribution will be used to address the current and critical needs of the library and help maintain our role as the center of an engaged urban campus. These funds also give us the flexibility to support new initiatives that align with our goal to be an outstanding library that constantly adapts, rethinks, innovates, and looks to the future. We listen to our students and faculty throughout the year, and support the areas of greatest need – from technology initiatives to space improvements, to creating comprehensive research collections.
A gift to the Library Fund is one of the most significant ways to contribute to tomorrow's great leaders, thinkers, and innovators.

Support Open Textbooks
You can also make a gift to the
fund for Open Textbooks
. Did you know that students spend an average of $1,298 per year on books and supplies and the cost of printed textbooks continues to increase? This cost can be a barrier for college students, many of whom can't afford the required course materials.
Portland State University Library aims to reduce this barrier to success through the creation and adoption of open textbooks. Open textbooks are faculty-authored, high quality textbooks made available for free online. PSU students have saved more than $150,000 through 15 open textbooks authored by PSU faculty. Portland State University open textbooks have been downloaded more than 36,000 times all over the world, in 75 countries including the United States, India, Italy, Spain, United Kingdom, Indonesia, South Africa, France, Canada, Philippines, Vietnam, China, and Mexico. Because of the library publishing infrastructure created through open textbooks, the Library's project to reduce costs for PSU students is having global impact.
Please join us as we make education more affordable and open by donating to the Open Textbooks fund today.

Thank You!
Gifts of any size make a difference to our students. Thank you for supporting the Library, open textbooks, and Portland State University.
---