PSU Library Special Collections' spring exhibit features Portland politician and activist Gretchen Kafoury (1942-2015). Through a wide range of materials curated from Kafoury's papers, the exhibit connects the passion she brought to the causes she fought for to each role she played in Oregon politics, whether organizing local actions or holding elected office.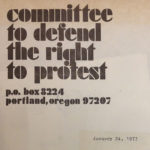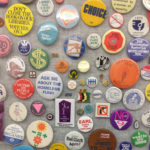 Highlights include Kafoury's activism in the women's rights movement in Portland and in state government; her efforts locally as County and City Commissioner to establish and support social programs for those in need, particularly women and the homeless; and the part she played in legislating equal rights in Oregon. The exhibit offers an inside look into the workings of both official and unofficial politics through Kafoury's unflagging dedication, principles, and humor.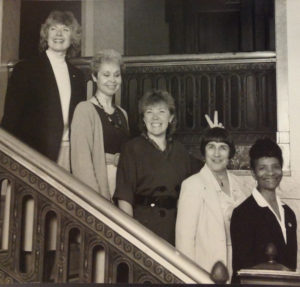 Corinne Rupp, a PSU Honors College student, curated the exhibit as part of her Honors thesis project, which also includes processing part of the Gretchen Kafoury Papers collection to make it available to researchers. PSU Library Special Collections is proud to present Corinne's work in honor of Gretchen Kafoury's life and achievements, and as a collaboration of local leadership, student research, and the Library's unique collections.
The exhibit will be on view in the Library first floor elevator lobby throughout Spring 2016. For more information about the exhibit and the Gretchen Kafoury Papers at PSU Library Special Collections, please contact specialcollections@pdx.edu.