Library Technician Sara Read has worked at PSU Library for many years, first, from 2005-2009, as a student worker, and, since 2011, as a full-time employee.
Sara's specific job includes staffing the Circulation Desk, retrieving books and other materials from Library storage, maintaining technology equipment for loaning, keeping supplies stocked, and giving library tours.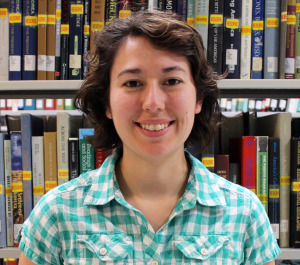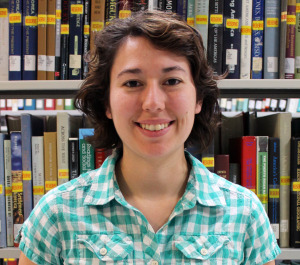 More significantly, she's known to her supervisor and colleagues as a friendly, hard-working employee who excels at anticipating needs and problems before they arise and then taking care of things quickly.
We asked Molly Blalock, Sara's supervisor, for a list of adjectives that best describe Sara. This is what she told us:

Exceptional, hard-working, good-natured, helpful, friendly, dedicated, respectful, knowledgeable, humble.
In recognition of her many contributions, this year the Oregon Library Association named Sara the Library Employee of the Year.
Sara is now moving on from Portland State. In the new year, she'll be starting a new position as Access Services and Technology Specialist at Watzek Library at Lewis & Clark. We are sad to lose Sara but delighted for her and for our colleagues at Watzek.
Good luck, Sara! We'll miss you!