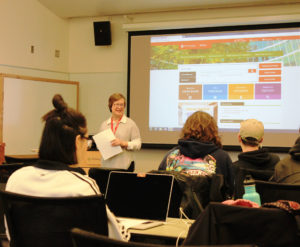 Professor Kris Kern, Fine and Performing Arts Librarian at Portland State University Library, is retiring after over 40 years of service.
Kris Kern began her library career before she even knew she wanted to be a librarian. The library at the University of Michigan, Ann Arbor was hiring for a cataloger to work with Middle Eastern materials. As a student majoring in Arabic, Kris was the perfect candidate for the position. Working at the library as a student worker would also help her in her studies, and pave the way for a new career. She graduated with a degree in Arabic in 1972 and continued to blend her background in Arabic with libraries.
She moved back home and attended Portland State University. At PSU, she worked as a lecturer teaching English as a Second Language, and also as a cataloger at the library working with Middle Eastern materials. While juggling two jobs on campus, Kris continued on in her education at Portland State. Professor Kern received a certificate for Teaching English as a Second Language in 1975. In 1982 she received a Master's degree in Speech Communication in 1982.
Professor Kern's role at PSU Library continued to evolve as time passed. She received her Master's degree in Library Science in 1997, shortly before becoming the Preservation and Cataloging Librarian. Kris served as Head of the Preservation Unit while she continued to work with Middle Eastern materials and cataloging. She also worked in preservation, a vital side of maintaining all of the information inside a library. Kris developed workflows to ensure the continued preservation and safety of the millions of items within PSU Library.
In 2009, she began working as the Fine and Performing Arts Librarian, where she taught research instruction and provided support for people studying the arts. In addition to teaching and research support, she continued to support Middle Eastern studies researchers as well as preservation at the library throughout the rest of her career. Throughout her career, Professor Kern took on multiple responsibilities in growing and preserving the library's collection and teaching.
Professor Kern is looking forward to traveling with her husband and enjoying time with her family in Portland.