The PSU Library is pleased to announce that on November 15, 2022, we will move to a new way of requesting materials through our interlibrary loan system. This system allows for easier requesting, faster turnaround time, and a clear indication of when library materials will arrive. The change in request options does not impact our ability to get items quickly from local academic libraries and you can continue to visit any library in the Orbis Cascade Alliance and check out materials.
If the item you're looking for isn't available at the PSU Library, you might see a Request from Other Libraries option that will allow you to request a physical or digital copy.  

The requested item might come from an Orbis Cascade Alliance (Summit) library or from a library in the wider interlibrary loan system. You don't have to choose which when you place the request; the system will automatically prioritize fastest delivery.  
If you're looking for a journal article that isn't available from the PSU Library, a similar option will appear if we can request a PDF of the article from another library.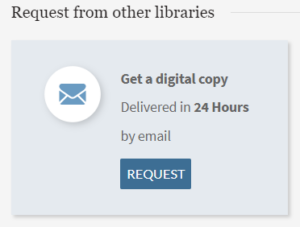 When the request has been filled, you'll receive a link to the PDF in your PSU email inbox and your library account.
ILLiad, the software previously used for interlibrary loan, will continue to be available for new requests until December 9th. If you use your ILLiad account to save bibliographic information about your past requests, please be sure to save that information elsewhere or migrate it to a citation manager like Zotero. 
If you have any questions, please contact circ@pdx.edu.