What does an etched cuneiform tablet have in common with a sixteenth-century printed page? What natural materials were used to make inks and paints during the Middle Ages and the Renaissance? How is parchment made into a writing surface? How has the form of the book changed and stayed the same for almost two thousand years?
PSU faculty and students in the fields of art history, medieval history, book publishing, and graphic arts now have a new and engaging way to answer these and other inquiries about the material history of manuscripts with PSU Library Special Collections' "Traveling Scriptorium."
Anne McClanan, Professor of Art History, was inspired by Yale University's Traveling Scriptorium to create a hands-on resource at Portland State for teaching the art, culture, and science of medieval manuscripts and books. Like Yale's project, PSU's Traveling Scriptorium was designed to be portable for classroom use.
Art History student Normandie Holmes and PSU Library Special Collections collaborated with Professor McClanan to research and source historical book models, raw and powder pigments, oak galls and iron gall ink, parchment and vellum, and original examples of fifteenth-century manuscripts and printing for our own teaching kit. The kit is also packed with concise information on how manuscripts were produced by scribes and bookbinders, from pigments and parchment to calligraphy and gilding.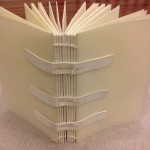 This teaching resource is available to Portland State faculty for three-day checkout directly from Special Collections, and is available to students by appointment. Please contact us at specialcollections@pdx.edu for more information. For more on manuscripts in PSU Library Special Collections, please visit our Rare Books and Manuscripts page.