Carole Pope was a social innovator and activist who changed the lives of 3,500 women and children through Our New Beginnings, a Portland-based residential and outreach program she created and ran for women offenders from 1980-1992. Carole's visionary thinking and her belief that the women she served could turn their lives around with the proper assistance convinced many initial skeptics in the legal and law enforcement communities.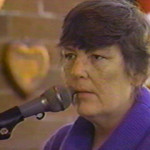 After Carole passed away in 2013, her papers were donated to Portland State University Library. PSU Library archivists are now gathering first-person perspectives for the Carole Pope Oral History Project, to build upon Carole's papers to create an invaluable resource that offers a road map for those striving to create meaningful alternatives to incarceration for women.
Learn more about the Carole Pope Oral History Project and how you can help create a unique and powerful resource for all those inspired to build upon Carole's legacy of support for incarcerated women and their families.