By Suzanne Pardington, University Communications
October 14, 2015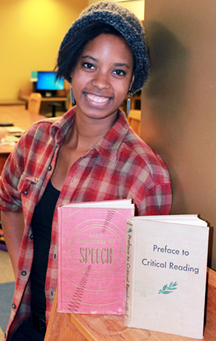 Two books borrowed from the Portland State Library in 1963 were returned this month with an anonymous handwritten note saying it's time for them to "go back home."
Librarian Joan Petit doesn't know who had the books — records don't go back that far — or why they were returned. But, she said, "If it were me, the guilt would have been relieved by returning them."
The books were left in a book drop with a rubber band around them and a note saying: "'Borrowed' these books about 1963 for my high school speech class. They have moved with me many times. It is now time for them (to) go back home. Outdated — yes — but I'll let you decide their fate now."
The library doesn't charge fines for overdue books, but it does charge a fee for replacing them. These books, "Basic Principles of Speech" and "Preface to Critical Reading," are so old librarians aren't sure what do to with them now.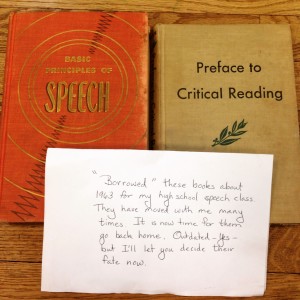 "We typically want our books back, but in this case, we didn't really know they were gone," Petit said. "It's not like they are going back into circulation."
One of the books has a stamp showing it was last checked out on Jan. 3, 1963, and the other is marked as a reserve book for use in the library only. They are both marked "Portland State College Library." The college became a university in 1969.
"Sometimes people return books they thought they lost," Petit said. "But we have no recent memory of someone returning a book so old it's not in our system."
Pictured: Kimberlee King, a student who works in circulation at the PSU Library, and two books returned after 52 years