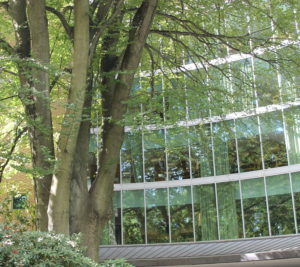 Claudia Irla, Assistant University Librarian (AUL) for Public Services and Government Information Librarian, is retiring after 16 years of service at Portland State University Library.
Before she started at PSU Library, Professor Irla studied Russian language at University of Maryland. She used her language background to catalog Russian materials at the National Agricultural Library beginning in 1978. As she moved up in her career at the National Agricultural Library, Professor Irla pursued her Master's degree in Library Sciences.
At the National Agricultural Library, she held various positions including Slavic Cataloger, Assistant to the Associate Director for Technical Services, and the Head of the Information and Management Branch. This led to memorable experiences, such as training librarians in Latvia and participating in the development of the Egyptian National Agricultural Library. After several decades working for the National Agriculture Library, Professor Irla decided it was time to move on in her career and be closer to her family in Oregon in 2001.
Professor Irla embraced the energy and excitement of working in an urban campus. During her tenure at PSU, she served as the Library's AUL for Technical Services, Government Information Coordinator, Reference Coordinator, and the AUL for Public Services. While on sabbatical in 2011, she toured libraries in Uzbekistan and presented on various library-related topics. Professor Irla has seen many changes over time and led the Library's efforts in a number of them.
Professor Irla is looking forward to helping family at their organic ranch and orchard in Sweet Home, and traveling to spend more time with her children, grandchildren, and her mother.