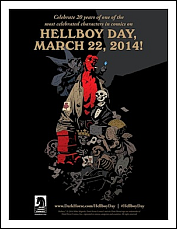 March 19 – April 18, 2014
Dark Horse Comics has proclaimed March 22, 2014 as Hellboy Day, in recognition of the twentieth anniversary of the publication of Hellboy: Seed of Destruction #1. We celebrated Hellboy's anniversary, and the Dark Horse Comics Collection at Portland State Library, with a display featuring Hellboy and other Dark Horse figures, as well as early Hellboy comics.
The Dark Horse Collection includes copies of all materials produced by Dark Horse. The browsing collection, along the curves near the windows on the Library's third, fourth, and fifth floors, includes one copy of every Dark Horse comic book, graphic novel, collected edition, and book.