The latest Library exhibit, opening May 31, 2017, presents a less-examined side of political debates and demonstrations during the Vietnam War era.
As United States military involvement in Vietnam escalated during the late 1960s, students at colleges and universities around the world mobilized against the war. From the Sorbonne in Paris to Kent State University in Ohio, campus life erupted in protest. Here at Portland State in 1970, students and faculty blockaded the South Park Blocks, demonstrating in opposition to the war, the military's physical transport of nerve gas across Oregon, the Kent State killings, and the imprisonment of Black Panther leader Bobby Seale.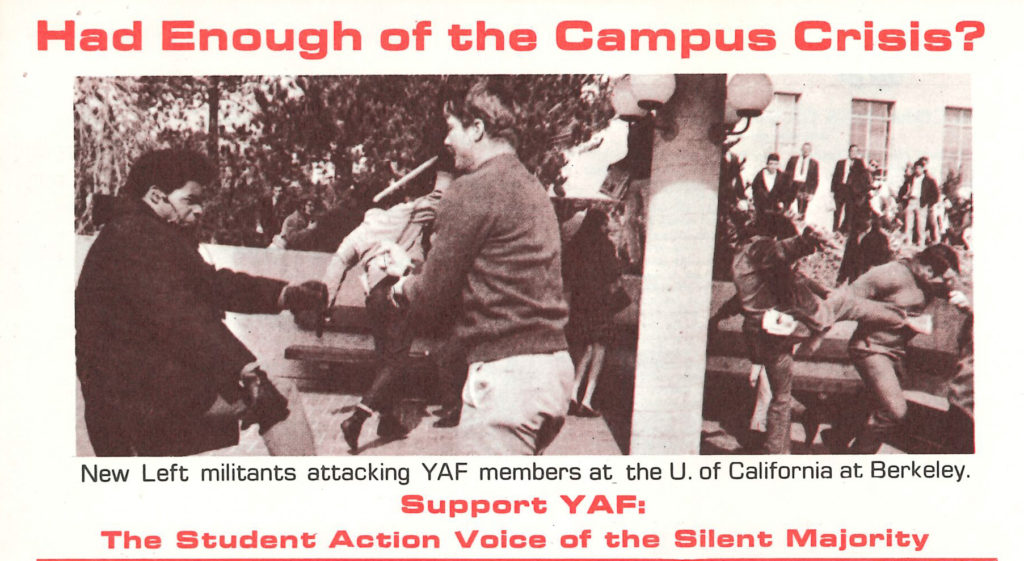 While the themes and images of those protests have become emblematic of that turbulent period, what is often overlooked is that new conservative movements rose up on campuses at the same time. In 1960, William F. Buckley Jr. and some of his contemporaries founded the Young Americans for Freedom (YAF). The group's purpose was to promote conservative values in young people during a time of heavy political mobilization by the Left in the U.S. and abroad.
"Conservatism in a Revolutionary Era" takes its title
from a manifesto of the YAF. The exhibit, curated by Honors student Mariah Denman, examines the reactions, rhetoric, and recruitment of this counter-counter-cultural student organization through its mission, publicity, and fundraising.

The Americanism Collection
The publications of the YAF are part of PSU Special Collections' 
Charles M. White Americanism Collection
, which contains materials related to or disseminated by American far Right conservative organizations from the 1950s through the early 1980s.
Dr. White, a long-time faculty member of Portland State's Department of History, had focused his doctoral work on far Left movements in the United States.  As a counterbalance, he shifted his scholarly focus to the other end of the political spectrum. For over three decades, Dr. White and his students gathered, organized, and preserved materials from dozens of right-wing groups.
The resulting collection records a historical spectrum of the political Right in the United States, from policy-focused economic and social conservatism to more virulent perspectives that openly draw upon legacies of exclusion and discrimination.
"Conservatism in a Revolutionary Era" is on display in the Library first floor elevator lobby starting May 31, 2017. For more information, please contact Portland State University Library Special Collections.