Welcome to the University Library at Portland State University!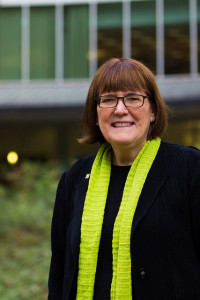 I am honored to have served as the Dean of the Library since 2012. Our wonderful library faculty, staff, and student employees join with me in welcoming you to the Library.
The Library's mission is to advance the intellectual vitality, knowledge, and creativity of the Portland State University community. We support research, teaching, and learning at Portland State and are dedicated to improving students success and providing the information resources faculty and student need. Great support from the university and our committed donors help us to achieve our goals.
Our Library Vision
• Promote the knowledge and use of collections and services
• Champion learning experiences that stimulate and inspire
• Engage with all members of the PSU community
• Steward library collections, facilities, and resources
• Provide creative spaces for participation and discovery
• Embrace a culture of innovation and exploration
We are committed to "Let Knowledge Serve the City."
See all we have to offer, and stay up to date with the Library on our home page, or see the latest Library Newsletter.
Sincerely,
Marilyn K. Moody
Dean, University Library
---
More About Marilyn K. Moody
Marilyn K. Moody is the Dean of the University Library and Professor at Portland State University, a position she has held since 2012. As Dean, she provides leadership for a vibrant 21st century library supporting research, teaching, and learning at Portland State University. She enjoys working with others on campus to respond to the constant changes and challenges of higher education. This has included prioritizing ways for the Library to support and increase student success and emphasizing library involvement in university-wide initiatives. Moody has held administrative and leadership positions at several other university libraries, including the Dean of the Library at Boise State University, the Associate University Librarian for Information and Research Services at the University of California, Santa Barbara, and the Director of the Science and Engineering Library at the University at Buffalo.
Moody's professional interests include academic library administration, mobile learning, open educational resources (OER), textbook affordability, institutional repository services, government information, and scholarly communications. Moody has published and presented on a broad range of topics. Moody has a Bachelor of Arts in Teaching of Social Studies and a Master of Science in Library Science from the University of Illinois.