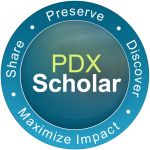 PDXScholar: The Institutional Repository of PSU Scholarship
PDXScholar is an online archive for PSU-authored articles, textbooks, journals, conferences, reports, & data sets. PDXScholar maximizes research impact, facilitates interdisciplinary research, and expands the reach of Portland State University scholarship worldwide.
---
More Ways to Contribute
Benefits:
Increases citation impact and visibility
Easy to archive and share work with colleagues
Persistent URL (permalink), and DOIs for some collections
Meets data management requirements for dissemination
Sign Up for Your SelectedWorks Profile — a personalized web page that offers:


Better ranking in search engine results than other personal web pages
Broader dissemination to enhance professional visibility and impact
Usage tracking with download reports
Notifies colleagues when new publications are uploaded
Creates an online vita which can provide full-text access to your publications
Exists in perpetuity regardless of PSU affiliation
Requirements:
Content must be produced by a PSU faculty, staff, or student, or PSU-sponsored.
Content falls under a non-exclusive distribution license to allow online access.
Ideally, if the work is part of a series, all works in the series will be contributed.
Citations, pre/post-prints, or final versions are included based on copyright terms.
Individual contracts with authors supersede journal policies.

Retention and Removal Policy:
Portland State University Library reserves the right to make content available in perpetuity. Content will not be withdrawn from PDXScholar unless significant or unusual circumstances, including legal concerns, such as copyright, libelous content, or privacy issues arise.
Authors' Rights
Authors must grant PSU the right to preserve and distribute the work.
Authors must own the copyright or have obtained permission to publish.
Authors retain copyright, unless a  copyright transfer agreement exists.
Authors can set conditions on the reuse of their work:

Student Submissions
University Honors College Submissions (Create an account.)
All submissions must be vetted by a PSU faculty member:

PDXScholar will focus on research created for the following projects:


Conference papers and presentations
Research grants and awards
Undergraduate student honors papers and capstone projects
Comprehensive research papers and projects
Collaboratively generated reports
---
Open Access Textbooks
Open access textbooks are freely available on the web for students at PSU and beyond.
Criteria
Successful proposals will meet the following criteria:
Used in a PSU course
Comprehensive
Geared toward a specific field of study
Reviewed by 2–3 peer-reviewers: 2 reviewers are unaffiliated with PSU
Meets Open Textbook Library submission criteria
Impacts large numbers of PSU students (preferred)
Intellectual Property
In accordance with Portland State University Intellectual Property Policies and Guidelines, authors are required to assign copyright to PSU. The open access textbook will include a Attribution-NonCommercial 4.0 International (CC BY-NC 4.0) license which will allow author(s) and others to remix, tweak, and build upon the work non-commercially. The new work must acknowledge Portland State University as the original copyright holder and be non-commercial, the derivative work does not have to be licensed under the same terms. Portland State University will hold these rights as well.
Funding
PSU Library, through generous donor support, sometimes offers funding for open access textbook publication. A budget for the project is agreed upon by the Library and recipient at the outset, and includes other payroll expenses (OPE) on any funds used for payroll-related expenditures.
When funding is provided, it can be used for:
Summer support for 9-month faculty/staff
Research support: peer-reviewers, accuracy checkers, copy-editors
Graduate Assistant support
---
Journal Hosting
All requests for new journals will be reviewed and approved by the Library.
The journal's editorial board will be responsible for the following:
Design/layout
Managing submissions
Uploading content
Promotion
How it works:
The Library provides training on the journal software interface.
Peer-reviewed journals need an editorial board to manage peer review.
At start-up, one PSU faculty member must be on the editorial board.
All student-run journals must be sponsored by a PSU faculty member.
The editorial board must have a plan for long-term publication.
Editorial board members are posted on the journal information page.
The editorial board or department is responsible to promote the journal.
For a new journal, the Library will request an International Standard Serial Number.
The journal will be added to the Library catalog to create an additional access point.
The library will register a Digital Object Identifier (DOI) for each article.
---
Conference Hosting
PDXScholar can provide a peer-review workflow and application process designed to streamline and simplify facilitating PSU-held conferences.
Features include:
Conferences can have unique branding
Tools to manage online submission, peer review, and publication
Indexed and discoverable in search engines
Uploads of video, slideshows, photos, and more
---
Data Sets
PDXScholar hosts data sets.
Features:
No fees
No file size limit
No type/format limits
Amazon S3 backup
DOI – permanent, unique identifier
Email Digital Initiatives Staff to Submit Data:
Title
Manuscript and dataset titles should be similar.
Names
Lead Investigators, co-authors, and affiliations
Abstract
A short summary that provides information on context, goals, methods, and outcomes. Attach a separate document to provide more details, such as how to replicate results (e.g. a 'readme' file, XML file, or codebook).
Sponsorship
Institution, organization or person that provided financial or inkind support for the development or collection of the dataset.
Related materials
List any related manuscripts, datasets, conference proceedings, etc. and provide identifiers (e.g. DOI, URI) when possible.
Format of data
Use the file extension or MIME type where possible, e.g., PDF, XML, MPG or application/pdf, text/xml, video/mpeg.
More Information:
Manage Your Research Data Guide