Kanopy and the Criterion Collection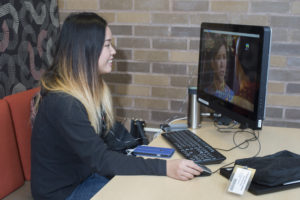 Kanopy is one of the many streaming media databases available at the PSU Library. With its large collection of films and documentaries available for streaming, Kanopy is the latest featured resource at the PSU Library.
Kanopy's movie library spans across the globe and includes new and classic films, international films, as well as films from festivals. Kanopy's collection also includes documentaries, educational films, and instructional videos across many disciplines. Use Kanopy to watch films and documentaries across many disciplines, as well as films representing many different perspectives. Additionally, viewers can enjoy features such as closed captions, transcripts, and additional related readings that provide more context to films.
The Criterion Collection in Kanopy is popular with film studies scholars. The Criterion Collection has some of the greatest films from around the world, available online in high quality. Viewers can browse genres like world documentaries, French new wave film, Japanese cinema, along with many other topics.
Try Kanopy now (PSU login required off-campus).
Streaming Media at PSU Library
PSU Library has many streaming films and music resources. You can stream popular films and documentaries, as well as music, opera and dance video, newsreels, and television archives. Our streaming content also includes educational videos about topics taught here at Portland State. Watch and learn about medical symptoms, counseling and therapy, and educational methods. Finally, PSU Library's streaming content collection is continually updated to reflect the needs of our researchers, so be sure to check in for new content.
More information:
Streaming Film & Music