Welcome, new students and faculty! Welcome back, all!
The Library has been busy this summer. Here's news you might have missed.
Sign-in to Search the New Catalog
In June, we implemented a new catalog as part of a cooperative effort by the Orbis Cascade Alliance (Summit) to consolidate all 37 institutions' holdings into one single, shared system. Sign in with your Odin when you search to get more results and access PSU Library content. Also, please double check any library links you have in your syllabi and D2L to make sure they still work. Questions about the catalog? Check our FAQs, ask a librarian, or use our Guide on the Side.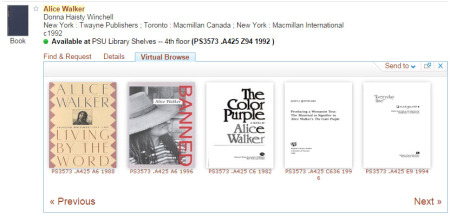 New Virtual Browse
One of our favorite features of the new catalog: in the search results page, click on "Virtual Browse" under any item to see what's next to it on the bookshelf.
Place Course Materials on Reserve
One big benefit of the new catalog system: it's much easier for students to find items placed on Library Reserve. Faculty who wish to place materials on Reserve can use the request form here.
New Library Website
This summer, we launched our newly-designed, responsive website, which offers the same content whether you're on your desktop computer, cell phone, tablet, or other mobile device. It might take some time to adjust, so please let us know if you have questions about finding content.
New Databases
PBS Video Collection – Frontline, American Experience, Ken Burns films, and more
BioRxiv – Open access repository of preprints in biology
Ebooks
We have so many ebooks! You should be able to find them in our catalog. If you'd like to browse some of our larger ebook collections, this list of ebooks will get you started.
Project Muse – we've added more than 3000 titles in film, history, Latin American studies, poli sci, international studies, and other areas
Knowledge Unlatched – open access ebooks from academic publishers, all of which are included in our catalog; PSU Library contributed to the pilot that succeeded in making these ebooks open
Extended Faculty Loan Period
Until recently, faculty checked out books through the end of the academic year. Now, thanks to the new catalog, we've changed the faculty loan period to a rolling 12-month check out. This means that faculty will now have books for an entire calendar year (but please do check your email for recall notices).
Upcoming Workshops
Managing Resources with Zotero and Mendeley
Tuesday, October 7, 3:00 – 4:30 p.m., Library 170
Tuesday, October 28, 3:00 – 4:30 p.m., Library 160
Organizing Your Information
Tuesday, October 21, 3:00 – 4:30 p.m., Library 220J
Literature Review Research for Theses and Dissertations
Thursday, October 23, 4:00 – 5:00 p.m., Library 160
Wednesday, October 29, Noon – 1:00 p.m., Library 160
See our workshops page for descriptions and more information. 
Library Tours
Offered the first four weeks of term on Tuesdays at 11:00 a.m. & Wednesdays at 4:00 p.m. Dates for fall:
Tuesdays at 11am: September 30, October 7, October 14, October 21
Wednesdays at 4pm: October 1, October 8, October 15, October 22
To join a tour, please go to the Library Circulation Desk on the first floor.
Between 1958 and 1979, Portland State hosted over two hundred speeches, interviews, panel discussions, and readings by scholars, activists, politicians, authors, artists, and community members. In our newly-digitized collection, listen to Robert F. Kennedy, Toni Morrison, Stokely Carmichael, Margaret Mead, Jessica Mitford, George McGovern,  Johnetta Cole, Timothy Leary, Carl Sagan, Allen Ginsberg, Alex Haley, Vera Katz, B. F. Skinner, and many others as they speak on campus.
Help Us Identify Student-Athletes!
The University Archives Digital Gallery now includes 3,200 athletic photos from 1953 through 1991. The collection includes dynamic action shots as well as team and individual portraits from a range of sports, including football, basketball, gymnastics, bowling, fencing, and more. Who are all these athletes? In many cases, we don't know! We would love your help in identifying the names of people in these photographs. Look for the "Tell Us!" option under each photo.
Fall Exhibit
Women Committed to Community Action: Honoring 104 Years of Service
The Junior League of Portland 1910-2014
On display through December in the elevator lobby of the Library's first floor.
Have a great fall term!