Organizational Chart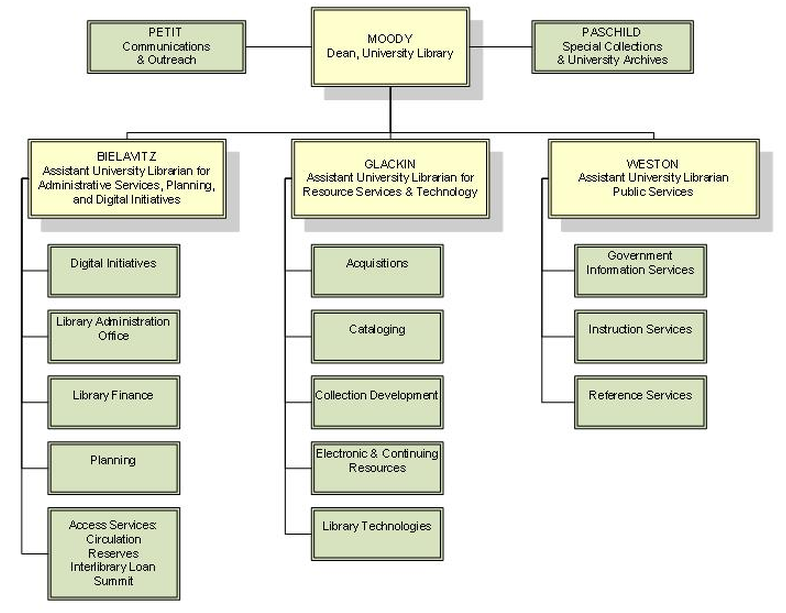 Statistics
A snapshot of PSU Library from July 2014 – June 2015:
Faculty & Staff
30 Librarians and professional staff (FTE)
29 Classified Staff (FTE)
15 student workers (FTE)
Services
Received 1,076,571 visitors to the Library
Circulated 162,244 books and materials
Borrowed 35,568 items through Orbis Cascade Alliance Summit libraries
Provided 23,094 items through Orbis Cascade Alliance Summit libraries
Received 12,181 books and journal articles from non-Alliance libraries through Interlibrary Loan
Provided 5,511 Interlibrary Loans to non-Alliance libraries
Answered over 7,715 in-person reference questions and 5,415 online reference questions, and 906 by telephone
Provided instruction to 10,679 students
Online access:

932, 737 full-text article downloads
16,656,643 regular database searches
322,718 federated database searches
Collections
1,430,929 volumes
2,592,288 microforms
1,011,676 eBooks

85,772 e-journals

134,715 audio-visual materials (maps, photos, motion pictures, DVD, CDs, etc.)
406,893 government documents
10,656 items in PDXScholar, the institutional repository, as of October 1, 2015
783,144 cumulative downloads from PDXScholar as of October 1, 2015
23,410 items in Special Collections
Building
The Branford Price Millar Library was first built in 1966 and originally consisted of a rectangular structure oriented roughly north and south along the east side of 10th Avenue. The striking architecture of the eastern portion, a convex wall of glass, was added in 1989 and reflects the environmental awareness of this Pacific Northwest University. The eastern addition was designed to surround, rather than replace, an ancient copper beech tree. The Copper Beech (Fagus sylvatica f. purpurea) tree in front of the Library was designated a Portland Heritage Tree by the Portland City Council in 1995. It was planted in about 1890.
Learning Ground Computer Lab
The computer lab in the Learning Ground offers both Mac and Windows computers, wheelchair accessible computers, scanners, and both black & white and color printing.
Learning Ground Sandbox
The Sandbox includes both work spaces and technologies that students can use to collaborate with one another. Technologies include touch-screen computers and wall-embedded displays with attached computers offering a range of software to support student work.
Learning Resource Center
The Learning Resource Center, on the Library's 2nd floor, provides access to both Mac and Windows computers, wheelchair accessible computers, scanners, and black & white printing. It also hosts the Media:Scape station, a collaborative technology enabling students to share a monitor while using their own laptops (or those checked out from the Library). Also located on the 2nd floor, the Learning Center, also known as the Tutoring Center, provides the following support services to currently enrolled undergraduate and graduate PSU students: Drop-in peer tutoring, Academic Coaching, Software and Test Preparation Workshops, and Resources, such as textbooks and dictionaries.
Practice Presentation Rooms
The Library's practice presentation rooms offer students the opportunity to collaboratively prepare and rehearse for class presentations.
3rd Floor Collaborative Space
On the third floor is a 5,000 square foot space providing various types of furniture and spaces for collaborative learning and study, including several whiteboards, shared computer workstations with table-mounted flat panel screens, movable tables and chairs, as well as comfortable furniture.
Group Study Rooms
The Library has about thirty group study rooms that range from 3-person to 15-person in capacity. Many of them include different technologies to facilitate group collaboration.