From Marilyn K. Moody, Dean of the University Library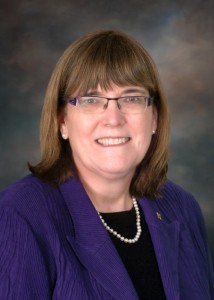 The fall term is in full swing, and the Library is packed! It is a welcoming and supportive place for our students. They know they can get individualized help here and use all of the many resources we have for their coursework and research projects. Many of our students are juggling multiple family, work, and other responsibilities as well as their academic lives, so making their time on campus and in the Library as productive as possible is important.
As we support our students and their success, one barrier that looms large is the increasing cost of textbooks and course materials. That's why I'm so excited about serving as the chair of a new university task force, the "Task Force on Textbooks and Course Materials: Reducing Student Costs." The task force's makeup includes students, faculty, and staff and was formed collaboratively through the efforts of the Faculty Senate, ASPSU (student government), and the Provost, Sona Andrews. Additional library faculty and staff who are part of the initiative include Jill Emery, Kim Pendell, Karen Bjork, and Stephanie Doig.
The Task Force is looking at such questions as, "What role can open and low-cost textbooks play in reducing costs?" "How can access to more open textbooks and course materials for PSU students be facilitated?" "What textbook adoption strategies and policies can be used to reduce student costs?"
Of particular interest to the Library is the role we can play in facilitating the use of open textbooks and other open educational resources (OERs). A pilot project, PDX Open, initiated by our library faculty and staff, has been collaborating with faculty to develop open access textbooks to be made freely available to students. This fall, we published the first PDX Open textbook, Preadvanced Japanese, developed by Emiko Konomi.
We're also looking at ways to use our existing library online resources within courses. We have a wealth of online articles, eBooks, and educational videos that faculty can use with students, and in some cases these can eliminate the need to buy additional textbooks and course materials. Library course reserves are another way we can make materials available to students who might not otherwise have access to the needed texts for their courses, and many students take advantage of this option as well.
Read More… (Fall 2014 Portland State Library Update)
---
More About Marilyn K. Moody
Marilyn K. Moody is the Dean of the University Library and Professor at Portland State University, a position she has held since 2012. As Dean, she provides leadership for a vibrant 21st century library supporting research, teaching, and learning at Portland State University. She enjoys working with others on campus to respond to the constant changes and challenges of higher education. This has included prioritizing ways for the Library to support and increase student success and emphasizing library involvement in university-wide initiatives. Moody has held administrative and leadership positions at several other university libraries, including the Dean of the Library at Boise State University, the Associate University Librarian for Information and Research Services at the University of California, Santa Barbara, and the Director of the Science and Engineering Library at the University at Buffalo.
Moody's professional interests include academic library administration, mobile learning, institutional repository services, government information, and scholarly communications. Moody holds a B.A. in Teaching of Social Studies and an M.S. in Library Science from the University of Illinois. Moody has published and presented on a broad range of topics. She is the co-author with Jean L. Sears of three editions of the reference work Using Government Information Sources.