From Marilyn K. Moody, Dean of the University Library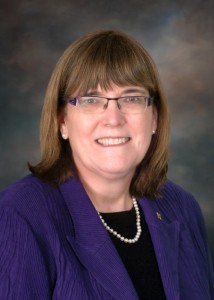 June 2015
As the academic year draws to a close, I'd like to take this opportunity to thank our library supporters. The Spring 2015 News Update highlights just a few of the ways that your generosity has allowed the library to better support and engage our students, acquire unique collections, and inspire scholarship and creativity at PSU.
Recently I had the opportunity to hear presentations from two of the art history students who researched and curated the spring and early summer Library Book of Hours display profiled in this newsletter issue. President Wim Wiewel was in the audience as well, and later tweeted, "Great exhibit of student work on medieval French manuscript. Deep engagement with any subject yields deep learning." Donor support helped make this possible—and this is just one example of the impact of giving I see every day.
In the last newsletter, I wrote about PDX Open, a library/faculty initiative to create open access textbooks made freely available to students. With five textbooks now finished, we estimate that these textbooks potentially saved students over $23,000 in the first term of use alone. With generous support from donors Robin and Robert Holmes, we are working with faculty to build on this initiative by providing additional open access textbooks and course materials for students.
Donor support for books, journals, databases, and other online resources helps us to acquire needed collections and information resources for our faculty and students. Many of these funds are targeted for specific subject areas or collections. Funds for Special Collections help us to acquire, process, and make available unique sources important to PSU and the community.
Thank you to everyone who makes the Library and PSU a better place!
And congratulations, graduating students!
Sincerely,
Marilyn
Read More… (Spring 2015 Portland State Library Update)
---
More About Marilyn K. Moody
Marilyn K. Moody is the Dean of the University Library and Professor at Portland State University, a position she has held since 2012. As Dean, she provides leadership for a vibrant 21st century library supporting research, teaching, and learning at Portland State University. She enjoys working with others on campus to respond to the constant changes and challenges of higher education. This has included prioritizing ways for the Library to support and increase student success and emphasizing library involvement in university-wide initiatives. Moody has held administrative and leadership positions at several other university libraries, including the Dean of the Library at Boise State University, the Associate University Librarian for Information and Research Services at the University of California, Santa Barbara, and the Director of the Science and Engineering Library at the University at Buffalo.
Moody's professional interests include academic library administration, mobile learning, institutional repository services, government information, and scholarly communications. Moody holds a B.A. in Teaching of Social Studies and an M.S. in Library Science from the University of Illinois. Moody has published and presented on a broad range of topics. She is the co-author with Jean L. Sears of three editions of the reference work Using Government Information Sources.