From Marilyn K. Moody, Dean of the University Library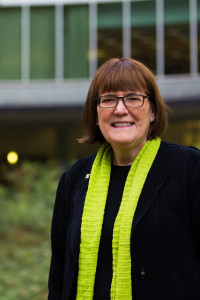 Elevate Student Success. That's how PSU's recent strategic plan describes our goal. At the Library, the focus on student success takes on multiple forms. For example, PSU Library faculty and staff constantly teach library instructional classes and workshops and help students one-on-one in using library services and collections to help them succeed. One article in this newsletter highlights the ways University Archivist and Head of Special Collections Cris Paschild supported Honors student Corinne Rupp in developing a unique senior thesis project.
Another newsletter article describes how our PDXScholar service provides ways for students to make the results of their student research available to others worldwide. This may mean publishing the results of their research as a journal article in the PSU McNair Scholar's Journal, as a thesis or dissertation, or as a paper or poster session included in the PSU Student Symposium conference proceedings. PDXScholar provides a powerful way for students' work to impact others and enhance the learning experience for PSU students.
A few additional examples of how the Library has helped our students succeed over the last academic year:
Held periodic "listening sessions" with our students to find out what we can do to better help them
Added access to over 1200 additional online journals
Borrowed needed books we didn't already own from other libraries
Provided access to desktop and laptop computers for our students
Made additional copies of textbooks available to students on Library reserves
Opened the Library 24 hours per day during finals and the end-of-term periods
Created online tutorials and guides for student use in their classes
Supported our students who are parents
Congratulations from the Library to our successful PSU graduating students!
Sincerely,
Marilyn
Read More in the Spring 2016 Library Newsletter…
---
More About Marilyn K. Moody
Marilyn K. Moody is the Dean of the University Library and Professor at Portland State University, a position she has held since 2012. As Dean, she provides leadership for a vibrant 21st century library supporting research, teaching, and learning at Portland State University. She enjoys working with others on campus to respond to the constant changes and challenges of higher education. This has included prioritizing ways for the Library to support and increase student success and emphasizing library involvement in university-wide initiatives. Moody has held administrative and leadership positions at several other university libraries, including the Dean of the Library at Boise State University, the Associate University Librarian for Information and Research Services at the University of California, Santa Barbara, and the Director of the Science and Engineering Library at the University at Buffalo.
Moody's professional interests include academic library administration, mobile learning, institutional repository services, government information, and scholarly communications. Moody holds a B.A. in Teaching of Social Studies and an M.S. in Library Science from the University of Illinois. Moody has published and presented on a broad range of topics. She is the co-author with Jean L. Sears of three editions of the reference work Using Government Information Sources.