From Marilyn K. Moody, Dean of the University Library
November 2015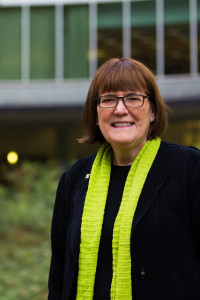 The fall term is in full swing, and the Library is full of students conducting research, studying, in classroom sessions with our library faculty, and getting help at our reference and circulation desks. One of the joys of working at a university is seeing the students return in the fall!
The PSU Library just completed a new five-year strategic plan and a one-year annual plan. The commitment of library faculty and staff to our students and their success was evident throughout the process. For example, our first strategic goal is, "Support student success with library services, collections, and spaces that meet students' educational, research, and informational needs in equitable and inclusive ways."
One of the fun parts of our strategic planning was a "Strategic Snacks" session held during finals to gather input from students. (The snacks helped generate interest, of course!) We asked students several questions, and here are some of the answers we heard:
What could the library do to help you do better in school?
"Teach people how to better use the library."
"Provide more tutorials on how to find research articles."
"Do more research help with classes."
"Extend hours."
"More study rooms."
"More group study rooms with whiteboards and technology."
"These snacks help a lot."
What should the library do with a $1 million gift?
"Books. Lots of books."
"Medieval manuscripts!"
"Continual expansion of digital services – wider availability of digital texts."
"Interactive tools for sciences. Chemistry models, math models."
"Updating library resources, more textbook reserves."
"More spaces for us."
"Extend hours to 24/7."
"Remodel, paint."
"More computer booths. Like a computer café."
"An art gallery of student work. It makes a chill atmosphere."
Thanks to the many students who shared their feedback! And thank you for your support of the Library and PSU students.
Sincerely,
Marilyn
Read More in the Fall 2015 Library Newsletter…
---
More About Marilyn K. Moody
Marilyn K. Moody is the Dean of the University Library and Professor at Portland State University, a position she has held since 2012. As Dean, she provides leadership for a vibrant 21st century library supporting research, teaching, and learning at Portland State University. She enjoys working with others on campus to respond to the constant changes and challenges of higher education. This has included prioritizing ways for the Library to support and increase student success and emphasizing library involvement in university-wide initiatives. Moody has held administrative and leadership positions at several other university libraries, including the Dean of the Library at Boise State University, the Associate University Librarian for Information and Research Services at the University of California, Santa Barbara, and the Director of the Science and Engineering Library at the University at Buffalo.
Moody's professional interests include academic library administration, mobile learning, institutional repository services, government information, and scholarly communications. Moody holds a B.A. in Teaching of Social Studies and an M.S. in Library Science from the University of Illinois. Moody has published and presented on a broad range of topics. She is the co-author with Jean L. Sears of three editions of the reference work Using Government Information Sources.